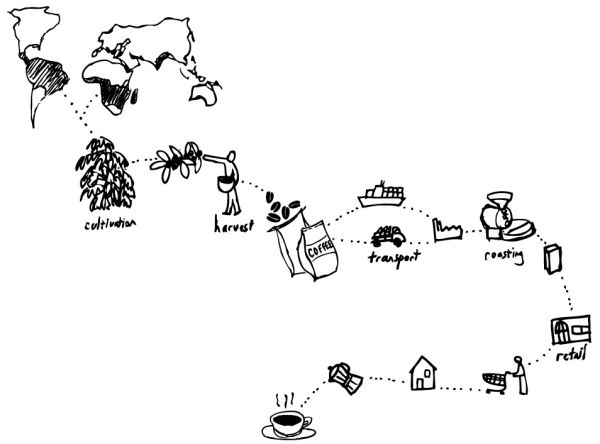 When we engage with the stories behind our daily life, we can create a personal connection and better understand 'sustainability'.
Background Stories helps consumers access detailed information about the social and environmental sustainability of their daily actions in an easy-to-understand, visual way. 
What is a 'Background Story'?
A 'background story' is a visual narrative; an infographic-like system that engages a wide range of audiences. It shares, in a visceral way, the often unseen back stories about products, service, and systems. Background stories become learning tools by increasing the understanding of a system in a playful, approachable way.
Communicating Sustainability
Imagine if you could instantly understand how the cup of coffee in your hand connects you to the whole – the whole world, whole population, whole ecosystem.
Many of the concepts within social and ecological sustainability are complex and large scale. One can easily get tangled trying to describe, or understand, these situations. Background stories offers a visual way to communicate complex context and detail in a way that is personally relevant to the recipient.
Because visuals tend to be more abstract than words, this is an ideal medium to connect people to the context of sustainability and change. This helps people understand their own role in making change.