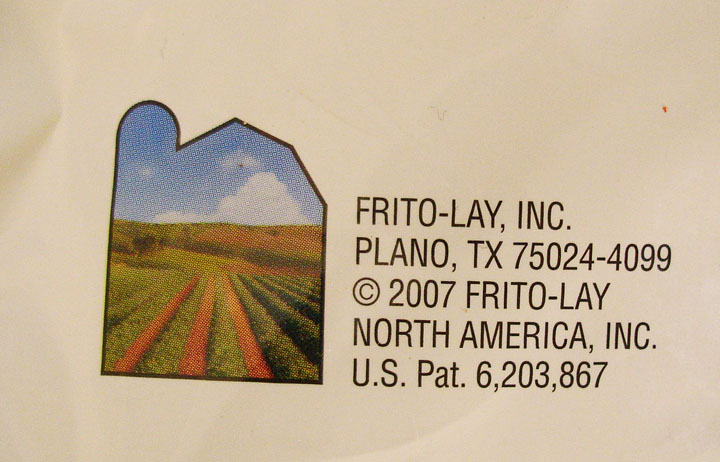 This graphic from the back-side of a Fritos chip bag seems to say that the company is farming-focused. The visual of peaceful farm landscape framed within the outline of a traditional barn is in direct contradiction with the accompanying address. (It's also common knowledge that the company's chips are about as processed and far from the farm as they can get.)
This is a case of graphics gone deceptive. Though Plano sounds like a perfectly nice place, from it's wikipedia entry, it doesn't seem to agricultural as this graphic suggests.
"Plano (IPA: /ˈpleɪnoʊ/) is a city in Collin and Denton Counties in the U.S. state of Texas. Located mainly within Collin County, it is a wealthy northern suburb of Dallas. The population was 222,030 at the 2000 census, making it the ninth largest city in Texas."
If Frito-Lay was trying to follow the criteria of corporate transparency by revealing their address in Plano, the company has also under-estimated the power of graphics. Their packaging's contradictory stance will make any visually-aware consumer doubt their mixed messages.
Visual cues can add new dimension to text-based information, but when text and graphic are in direct contradiction to each other (and obviously wrong for the context of the product), the addition of visual information can do more harm to the image of the company than good.
http://backgroundstories.com/wp-content/uploads/2017/01/BackgroundStories_logo_grey-transp.png
124
124
admin
http://backgroundstories.com/wp-content/uploads/2016/03/BackgroundStories_logo_grey-300x124.gif
admin
2008-07-20 22:22:49
2017-01-10 17:39:23
Fritos don't grow in fields